Thu, 29 July 2021 at 6:14 pm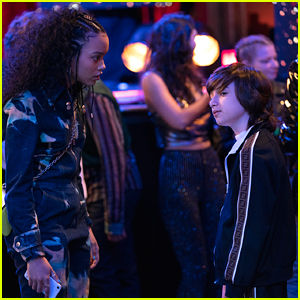 SPOILER ALERT! This post contains Gossip Girl episode four spoilers!
There was a new character introduced on Gossip Girl this week, and he's actually a character from the OG series!
Milo Sparks made his grand return, as a ten year old eighth grader, and he's played by Azhy Robertson.
Learn more inside…
In this week's episode, it's Zoya's birthday and she ends up enlisting Milo to help take down Julien.
Milo is of course the son of Georgina Sparks, played by Michelle Trachtenberg in the original show, though we don't actually get to see her. In the new series, we find Milo living on the Upper East Side in a mansion that has a lot of photos of his mom, and one of Blair Waldorf from season one. He's also quite smart for his age and skipped two grades.
11-year-old Azhy, who already has quite a number of projects under his belt, opened up about the character and taking on the role.
"I got the offer and I was very interested because Milo, he's really different from everyone else I've played. He's like an evil genius. He's almost a super villain. He's almost comically evil, like mustache twirling," Azhy told Teen Vogue.
"He has a very different personality to all of the other people I've played and I figured it would be really cool and fun to play this guy and be in Gossip Girl," he continued. "Which also, another thing is my cousin, she's a huge fan of Gossip Girl. And when my parents and I called her, she was really surprised and elated that I was in it, which was pretty cool."
"I looked at a lot of stuff about Georgina Sparks, who is my mother in the show, and how evil and… what's the word? [Pauses] I'm sorry, just evil," Azhy added. "I was thinking of a word to sound fancy, but how evil she is and how she sets up a bunch of stuff and different confrontations that could potentially hurt the others. She's just like an agent of chaos. I feel like she's like Dr. Evil and I'm Mini-Me."
Milo is the second original character to appear in the Gossip Girl revival, following the brief appearance of Rebecca Sherman.
Azhy is also working on the AppleTV+ series Invasion, which premieres on October 22nd. You may recognize him from one of his many past roles in projects including Marriage Story, The Americans or The Plot Against America.
In his personal life, Azhy, like Milo, skipped a grade in school, watches a lot of anime and American Horror Story, and this summer he's started to play bass guitar. Learn more about him on Teen Vogue!
Like Just Jared Jr. on FB