Mon, 09 August 2021 at 7:55 pm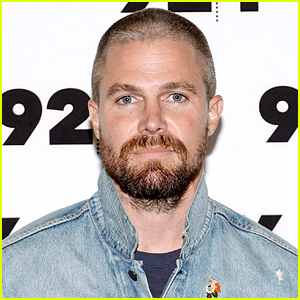 Stephen Amell is opening up about when he was ready to hang up his Green Arrow hood.
In a recent episode of the Hero Nation podcast, the former Arrow star opened up about telling producer Greg Berlanti he thought it was time to end and how things had changed throughout the years on the show.
Click inside to read more…
Stephen shared that midway through season six is when he said he was ready to end it, but was convinced to finish it out for another couple of seasons.
"Halfway through the sixth season of Arrow, I called up Greg Berlanti in January. That would've been the January of 2017 or 2018? Everything blends together," he said. "But during the sixth season, I called him up and said that I thought it was time to wrap it up. and he said, 'Think about this for two weeks. This is the worst phone call anyone has ever made.' Professionally. And so I thought about it, because he said you know, once I do this, once I put it into motion, that means a phone call to Peter Roth, head of Warner Bros Television, and a phone call to Mark Pedowitz, who is still running The CW. Both wonderful gentlemen who I am very very grateful and thankful for. So I thought about it and I just thought that it was time."
"I just thought that I had another year, and I thought that I had more in the tank, more that I wanted to share with this industry and this career that I've chosen, and I wanted to be inspired again," Stephen added. "So Greg Berlanti, who's way smarter than I am, as evidenced by his prolific nature in film and television, convinced me… He basically put me to a place where it would've been fiscally irresponsible to not do a seventh season and then complete it with a truncated eighth season."
Stephen added that he got to a point where it felt the creativity wasn't quite there anymore, and doing the show was more about the money than the creativity.
"When I started Arrow, if you're thinking of things in a pie chart, it was 90% about the creativity and it was 10% about being able to eventually buy a house and then pay a mortgage. So it was 10% about the finances. And as you move through it, I don't think that any show, really, if you're being intellectually honest with yourself, is designed to go 170 episodes. Maybe it's designed to go 70, 80, 100," he said. "By the time we got to season six and season seven, I felt as though the pie chart had almost completely reversed itself to where it was 90% about the financial incentive and 10% about the creativity. There wasn't a ton to be done with the character of Oliver Queen, and it became pretty clear to me that there wasn't a ton to be done on a macro level with the formula of the show."
"The show is what the show is. It's gonna be 22 episodes [a season], it's gonna have six act ins and act outs, and you know, even with directors, we never, if anyone ever went too far outside the box, that would be the only time they were directing the show. The show had a formula, the formula worked," Stephen continued. "I don't know hold it against anyone who was on the creative side of it. I actually think that they did a spectacular job. Be it Andrew Kreisberg, Marc Guggenheim, Beth Schwartz, anyone that we had on the writing team… but those three people principally, who ran the show through the eight years, I certainly don't hold it against them, but we had done it. We had done everything. I will stack up playing a superhero with no superpowers on television for that many episodes, in terms of degree of difficulty, up against anything on TV. Frankly, any acting job."
He also felt a little frustrated that he wasn't being recognized, awards wise, for his work on the show.
"It became somewhat frustrating to feel as though you are pigeonholed a little bit – 'Yeah, he's doing a CW superhero show.' And I would see other people, other peers of mine who in my mind were not necessarily doing things that were as difficult, but yet were receiving accolades within the industry and I'd be lying straight to your faces if I said that that wasn't important to me," he said.
If you missed it, Stephen previously said that he had considered a return to Arrow last summer, even though the show had ended.
Like Just Jared Jr. on FB