Wed, 11 August 2021 at 8:10 pm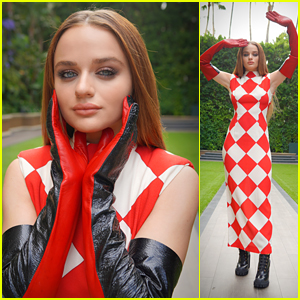 Joey King wears a checkered dress for a day of press for The Kissing Booth 3 held at The Four Seasons in Los Angeles, Calif.
The 22-year-old actress and executive producer recently dished about the movie series coming to an end.
See what she said inside…
"I'm feeling so bittersweet [about the end]. I can't believe I'm saying goodbye to these movies and this character," she told Access Hollywood. "I'm also very happy and excited about the way we ended things, and also just in general, that I got to be a part of these movies."
"I cannot believe the global reach that these movies have had. I was never expecting them to do as well as they did," Joey added about the success of the first movie. "Not because of anything other than we didn't know if anyone would watch it. We were told by Netflix, 'Go make a cute movie,' you know. 'Here's a little bit of money, go make it.' We had no expectations and it absolutely blew up. We have an amazing fan base now, and we all have these crazy lives. It's unbelievable."
"Thank you Elle, I've loved being you. And thank you to everyone who had a hand in making these movies what they are. The Kissing Booth 3 is now streaming on Netlfix. ❤️ The end of an era, excuse me while I go sob in a corner somewhere," Joey added in an Instagram post.
FYI: Joey is wearing a Rosen Rose look, 51 E John earrings and rings, Melinda Maria huggie earrings, Dolce&Gabbana boots, matching Gaspar Gloves, and an Aliel bag.
Like Just Jared Jr. on FB