Wed, 11 August 2021 at 7:26 pm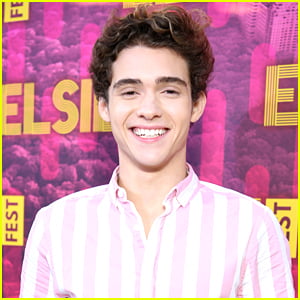 Joshua Bassett is opening up about his coming out earlier this year.
In a new cover interview for Attitude magazine, the 20-year-old actor and singer revealed that coming out was super easy and very liberating for him.
Click inside to see what he shared…
"Funnily enough, it was one of the easiest things I've ever done, and one of the most liberating things I've ever done," Joshua told the mag.
"I wasn't planning on talking about any of it and then there was a point where it kind of got bigger than me and I knew I had to acknowledge it," he continued. "And I wrote the statement in less than five minutes. It all came out at once and I was like, yep, let's post it. And I felt really great about it, and I never looked back."
He also opened up about how this was the first time he was really hit with homophobia.
"This was the first time where I was subjected to a lot of homophobia. You know, I seem 'straight' to everyone I meet, pretty much, and I have had to see that [homophobia] first-hand. Seeing that put things into perspective, of how far along we aren't yet; I thought we were a lot further on than we are," he said.
"On the flip side of all that are the responses I've gotten from people saying, 'I've never had somebody put into words exactly how I feel.' Or, 'Thank you so much for helping me be seen.' Or, 'I can't be who I am around my family, but because of you I feel a little bit safer, a little bit more at home,'" Joshua shared. "That makes it all worth it. People can hate me forever and say the nastiest thing possible, but it will not change a thing, because you need to stand tall and face those people as an advocate for all the people without a voice."
See what Joshua previously said about coming out.
As for his now single character Ricky on High School Musical: The Musical: The Series, Joshua says he's "super open" to Ricky having a coming out storyline.
"I trust the writers, and I trust Disney to do what's best, and you know what, I would love that. I'm down for whatever they choose," he said. "All of that's out of my control, I don't have a say in that, but yeah, that would be great."
Like Just Jared Jr. on FB