Wed, 22 September 2021 at 3:45 pm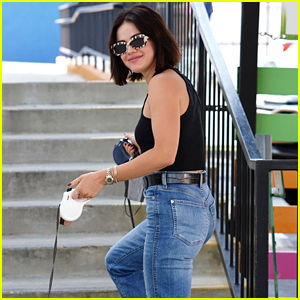 Lucy Hale brings her cute little dogs to the doggy daycare center on Monday (September 20) in Los Angeles.
The 32-year-old actress shared a smile as she dropped off her dogs Elvis and Ethel.
Earlier this month, Lucy was seen out at New York Fashion Week. See the photos of her at the Michael Kors Collection show and at the alice + olivia show.
Lucy recently opened up about gaining confidence beyond the mirror, as well as loving her body and kicking butt.
Find out what she shared…
"For much of my life, I thought I had to be cute and sit there. That's so boring. I've developed more confidence because I realize I'm more than the way I look. One day, I was like, Wait, I'm a good person. I work really hard. I've been given gifts. I'm smart. I can have good conversations," Lucy told Shape magazine. "My idea of beauty is different now. Feeling strong, feeling confident—nothing is better."
"Our bodies are so amazing and resilient, and we don't give them enough credit. I spent much of my teen years and early 20s not loving my body and not being good to it. I'm trying to make up for that because we get only one body. We have to take care of our temple," Lucy added about loving her body.
"I do a lot of strength training because I like to feel strong. I'm 5-foot-2, but I like to feel like a bada– and to know that I could kick someone's a–," she said.
If you missed it, Lucy recently wrapped filming on her upcoming series Ragdoll.
Like Just Jared Jr. on FB