Wed, 22 September 2021 at 3:09 pm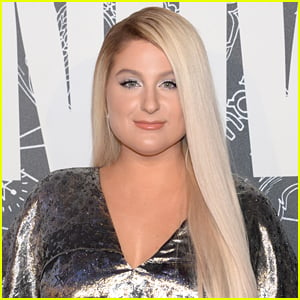 Meghan Trainor is opening up about her struggles with panic disorder.
The 27-year-old entertainer shared that she has been dealing with panic attacks for years, and she even revealed what has helped her.
See what she shared inside…
Meghan was on-air live while filming CBS This Morning in December 2016 to help announce the 2017 Grammy nominees when she had her first panic attack.
"I was announcing the nominees, and I was vibrating. I felt like I was going to pass out on live television. I was like, 'What's happening? I must be dying,'" Meghan told People. "As soon as they said 'Cut,' I went offstage and was [gasping for air] in front of everyone."
After visiting the hospital for physical symptoms multiple times, Meghan was then later diagnosed with panic disorder.
"Some nights I remember I ate a bunch of food, then I got scared, and I was like, 'I need to go to the emergency room because I'm allergic to what I just ate,'" she recalled. "The doctor came in, looked really sad, and was like, 'Have you ever heard of a panic attack?' I was like, 'No, no, no, I'm having an allergic reaction. If you just look in the back of my throat, it's closing.' That was my first lesson on what a panic attack can do to you."
After learning of her diagnosis and seeing a psychiatrist, she then started treating her panic disorder with medication and therapy, and says that saved her life.
"I'm not ashamed to say I'm on antidepressants," Meghan shared. "That medicine saved me, saved my life, saved my career. I'm back better than ever."
Meghan has quite a few projects coming out. She serves as a judge on Clash of the Cover Bands, which premieres on E! in October, and she also has signed an overall deal with NBCUniversal, where she will star in and develop a new sitcom!
She is also co-hosting Top Chef Family Style on Peacock, and she just launched a new podcast with her brother. All of this while being a mom to her super adorable seven-month-old son Riley and wife to hubby Daryl Sabara.
Like Just Jared Jr. on FB