Mon, 25 October 2021 at 5:15 pm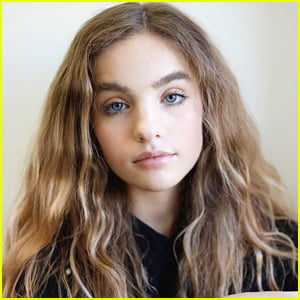 Autumn Best is making her TV acting debut in the new CW series 4400!
The young actress will be starring in the reimagined sci-fi thriller as Mildred, a young teenage girl from the 1970's, who mysteriously reappears after being missing for decades.
Autumn, who has a limb difference, has been performing on stage since she was four-years-old and is excited for others to see someone who looks like them on screen. She wants to be a role model for those who have a disability looking to pursue their dreams.
Click inside to read more…
JJJ got to know more about Autumn Best with our 10 Fun Facts feature. Keep reading to find what she shared below…
In 4400, over the last century at least four thousand four hundred people who were overlooked, undervalued or otherwise marginalized vanished without a trace off the face of the planet. Last night, inexplicably, they were all returned in an instant to Detroit having not aged a day and with no memory of what happened to them.
As the government races to understand the phenomenon, analyze the potential threat, and contain the story, an empathetic social worker and hardened community corrections officer are among the civil servants called upon to deal with the uncanny refugees. The new partners clash in ideology and approach, but gradually find they have more in common than they thought as they become familiar with those under their care.
4400 premieres TONIGHT (October 25) at 9pm ET/PT on The CW. Watch the trailer here!
Autumn Best – 10 Fun Facts
1. I started playing the violin when I was 4! I play it left handed because of my disability so I've always had to be on the end of the rows in orchestra so I wouldn't whack people in the face.
2. I LOVE to cook. I have been vegan since I moved to Chicago to film 4400 and I love to make (and eat) all kinds of plant-based food.
3. I am a visual artist and writer. My most recent projects have all been either mural-based or interactive in some way. I also have a secret poetry blog (I write a lot of poems). Good luck finding it.
4. I worked in a shoe store for a year while in high school in Utah before booking my role on 4400.
5. I can paint my own nails even though I only have one hand. Riddle me that.
6. My mom wants me to tell you that I was the Valedictorian of my high school class last year.
7. I love riding the trains in Chicago, I really do. I get motion sick every time but it's worth it.
8. I collect mugs, dried flowers, piggy banks, tote bags, and Dr. Martens.
9. My favorite singers are Lorde and Phoebe Bridgers because they are both lyrical geniuses. I think they're the only two people alive that could actually make me star struck if I met them.
10. I've been doing yoga for two years and it's one of the best things I do for my anxiety, which is something I definitely have struggled with. I especially love doing flows outside with friends or my mom. Utah is the perfect place for outdoor yoga and I really miss that!
Like Just Jared Jr. on FB