Wed, 10 November 2021 at 1:08 pm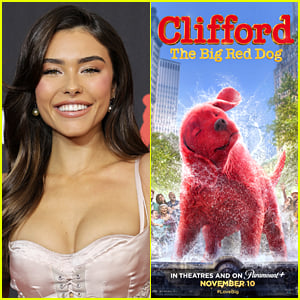 The new Clifford the Big Red Dog movie is out now and it features a brand new song from Madison Beer!
The 22-year-old singer, who is currently in the middle of her Life Support Tour, sings the track "Room For You" in the film.
JVKE also has a new song in the movie, "Brand New Day."
"My song 'Brand New Day' is featured in the brand new Clifford movie in theaters November 10th! Song drops on November 10th!!!🍿I LUV CLIFFORD THE BIG RED DOG!!! 🎬✨" he shared a few days prior to release.
Check out their new songs inside…
Clifford the Big Red Dog follows middle-schooler Emily Elizabeth (Darby Camp) when she meets a magical animal rescuer (John Cleese) who gifts her a little, red puppy, she never anticipated waking up to find a giant ten-foot hound in her small New York City apartment.
While her single mom (Sienna Guillory) is away for business, Emily and her fun but impulsive uncle Casey (Jack Whitehall) set out on an adventure that will keep you on the edge-of-your-seat as our heroes take a bite out of the Big Apple.
The movie is out in theaters and on Paramount+ now!
Like Just Jared Jr. on FB