Fri, 21 January 2022 at 10:00 am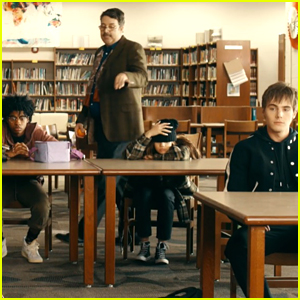 Kevin Quinn is premiering his brand new "It's About Time" music video right here, exclusively on Just Jared Jr!
The 24-year-old singer and actor's new visual pays homage to one of his favorite movies – The Breakfast Club.
"This music video was one of the most fun projects I've worked on thus far. It's full of life, beauty, and memorable moments," Kevin told JJJ. "I could not be more thrilled with how it turned out, and am grateful to my team to have helped make it happen."
Click inside to watch and find out more…
"Kevin is one of the most driven, creative people I've worked with; and watching him grow as an artist is incredible," director Roman White shared about making the video. "I knew The Breakfast Club was one of his favorite films, and thought it would be fun to create an homage video that spoke to the teens of today, and spoke to how time is so incredibly important in building relationships and TRULY seeing each other."
We also have some exclusive behind-the-scenes photos from the video shoot, which you can check out in the gallery!
"It's About Time" is off of Kevin's EP of the same name, which was just released the week before.
"This song serves as a reminder that life is equally fragile as it is beautiful, and we should never take a single day for granted," Kevin said about the song. "I hope the fans fall in love with the music video, as well as our little nod to those universal themes in The Breakfast Club."
Check out the new music video now!
Like Just Jared Jr. on FB