Mon, 31 January 2022 at 1:25 pm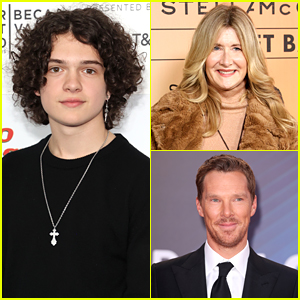 Noah Jupe is lining up his next movie, and he'll be starring alongside a couple of big names!
The 16-year-old A Quiet Place actor is set to star in Morning, with Laura Dern and Benedict Cumberbatch, Deadline reveals.
Get more details inside…
Morning is "set in a near future where society has a pill that does away with the need to sleep. With the added help of an artificial sun, there is no end to morning daylight, living and work. However, as a young generation grows up deprived of the world of sleep, they consider rebelling to reclaim their dreams."
"The ambitious and driven Cathy (Dern) was an early advocate of a sleepless world, but as she and her son Danny (Jupe) pick up the pieces of their lives following the death of her husband Frank (Cumberbatch), she finds the universe she helped to build is starting to crumble around her, whilst memories she fought so hard to repress are bleeding into her waking life. As Danny is further drawn into a subversive underworld of dreamers, Cathy must confront her nightmares and fight hard not to lose her son."
Justin Kurzel is set to direct the pic, which was written by Sam Steiner. Benedict's company SunnyMarch is producing.
Another upcoming project for Noah is the upcoming The Lost Boys remake, where he'll star alongside another big rising star!
Like Just Jared Jr. on FB