Thu, 03 February 2022 at 6:14 pm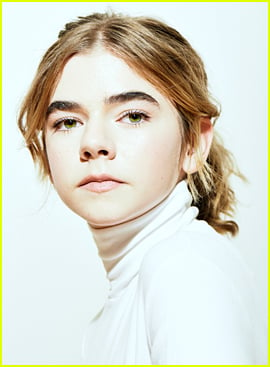 Matilda Lawler is still somewhat new to the entertainment industry, but she's already making quite the name for herself!
The 13-year-old actress has just recently starred in the HBO Max series Station Eleven, where she portrayed the younger version of the main character Kirsten, and she's been getting rave reviews.
Station Eleven is based on the book of the same name by Emily St. John Mandel, and is a post-apocalyptic saga spanning multiple timelines, this limited drama series tells the stories of survivors of a devastating flu as they attempt to rebuild and reimagine the world anew while holding on to the best of what's been lost.
Click inside to learn more about Matilda…
Matilda only has a handful of credits on her resume, including a Broadway show, the Disney movie Flora and Ulysses, the series Evil, and the movie The Block Island Sound.
We recently caught up with the young rising star and got to know 10 Fun Facts about her!
1. I convinced my kindergarten teachers that I was allergic to popcorn because I thought it made me cooler – and it did.
2. I named my pet hamster Luli after the kitten and horse in Station Eleven.
3. In Flora and Ulysses, there's a scene where I'm riding a bike and a soccer ball hits me in the head knocking me off the bike. The soccer ball was CGI! They put it in because I actually fell off my bike!
4. I love to prank my family and friends way too much and now they are always skeptical when I tell them things. For example, I convinced a few of my friends that there was going to be a new kid at school named Juniper and they believed me for a while. They were disappointed when she didn't show up.
5. I've watched the whole Harry Potter series and The Hunger Games series too many times to count. When I get into a book series or movie series it's pretty much all I can talk about for a month but then it dies down slightly. All my book and movie obsessions will ALWAYS have a place in my heart.
6. I was in a Broadway play called The Ferryman. In the play there was a dwarf rabbit, a bunch of real babies and a goose. They were soo cute. Except the goose, he liked the crown my character wore and always came after trying to snatch it off my head. Never did. Silly goose.
7. I learned how to knit from my tutor on Station Eleven and now I knit more than I should. When knitting, I always feel like a super hip grandmother and I'm not mad about it. I knit gifts for my friends all the time.
8. On the first movie I shot, my dad and I had to spend a few nights at a pretty interesting motel. My dad found Milk Duds in his bed, I found a sock in my bed and the smell was super funky. Good thing I always travel with candles and decor!
9. I have an older sister named Lily and she's my best friend. No one can make me laugh like she can.
10. I can read [Flora & Ulysses co-star] Ben Schwartz' mind and he can read mine. That is a statement. We have no explanation for it, it just is the way it is.
All ten episodes of Station Eleven are now streaming on HBO Max!
Like Just Jared Jr. on FB