Mon, 21 February 2022 at 4:00 pm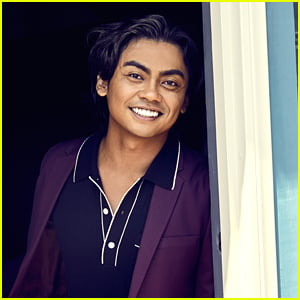 Think you know all you could about Roi Fabito, aka Guava Juice? Think again!
We caught up with the YouTuber and got to know some fun facts about him.
At the end of 2021, Roi shared a sneak peek at his new animated series The Guava Juice Show, where he serves as executive producer and lead voice star of his namesake character Roi.
Learn more inside…
Later this year, he will officially launch the show and roll out more new episodes.
"To have an animated series based on me and the Guava Juice brand is beyond surreal," Roi shared. "The show really captures the positive, chaotic, and fun nature of what my YouTube channel encapsulates except it takes it into a multi-versal level."
The Guave Juice Show follows the wacky adventures of 14-year-old Roi and his best friends, plucky teenager Jenny and fretful, safety-first Guava, as they work at a mysterious curio shop and travel to parallel worlds and dimensions throughout the multiverse in a magical bathtub.
Each episode of the show contains lessons that apply to real life like daily hardships and how to approach and solve them.
In anticipation of the official launch of the series, we got to know 10 Fun Facts about Roi Fabito, aka Guava Juice. Check 'em out below!
1. My greatest fear is electricity. When I was 8, I touched a wall socket with my big toe and it shocked me for a good 5 seconds. I've been terrified ever since.
2. I have a new YouTube Originals animated series called The Guava Juice Show.
3. My team and I took 4 years of work to make The Guava Juice Show come to life! You're missing out if you haven't seen it yet.
4. I know how to play guitar, piano, ukulele, bass, and drums pretty well.
5. I own 81 plants.
6. I was born in Dagupan City, Philippines.
7. I can draw really really well. Art is my passion.
8. The Guava Juice Show is my favorite cartoon (not being biased either! IT'S SO GOOD!).
9. My top 3 genres of food (in order) is: Japanese, Mexican, and Filipino food.
10. My favorite desert is Filipino chocolate rice pudding called Champorado.
Like Just Jared Jr. on FB