Mon, 21 February 2022 at 3:00 pm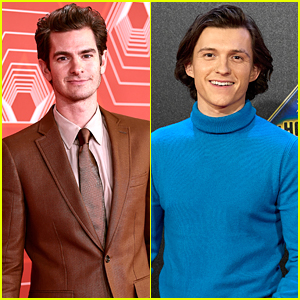 Andrew Garfield is dishing about his time on set of Spider-Man: No Way Home!
The Amazing Spider-Man actor reprised his version of Peter Parker/Spider-Man in the latest flick, teaming up with Tom Holland and the OG Tobey Maguire.
Andrew has revealed what it was like having all three Spider-Mans all together, and opened up about comparing their different suits.
Click inside to see what he said…
"I think the first time we were all in the suit together, it was hilarious because it's like just three ordinary dudes who were just actors just hanging out," Andrew told Variety. "But then also, you just become a fan and say, 'Oh my god we're all together in the suits and we're doing the pointing thing!'"
He also said they talked about the little accessible features in their suits and what worked well for each of their suits, and what Tom was jealous of about Andrew's.
"There was talk about going to the bathroom and, you know, padding around the package. We talked about what worked for each of us. Tom was jealous because I have little zippers in my suit that I can get my hands out of very easily. To work his phone, he had to use his nose because he couldn't access his hands," he said.
"We would have deeper conversations, too, and talk about our experiences with the character. And to have Amy Pascal there, who has seen through nine movies, including Spider-Verse. It was a revelatory experience for her, realizing how much life and time she'd given to this character. That was beautiful and profound."
"There's a line I improvised in the movie, looking at [Maguire and Holland] and I tell them I love them. That was just me loving them," Andrew added. Aww!
If you missed it, see what else Andrew said about working with Tobey.
Like Just Jared Jr. on FB