Fri, 25 February 2022 at 8:10 pm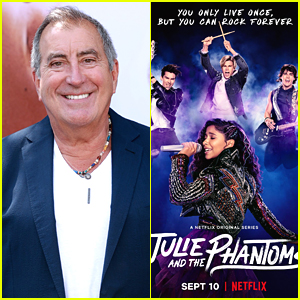 Kenny Ortega is thanking fans of the musical series Julie and the Phantoms!
The renowned director, choreographer and executive producer of the Netflix show took to Instagram to show his appreciation to the "Save Julie and the Phantoms" movement that has been going on since the show was officially canceled back in December.
See what he said inside…
"Thank you @adultsandthephantoms and @emmaandtheunfinishedbusiness for continuing to show your love and support with the funding of an amazing 20 billboards…and to all the #Fantoms for your love, and support honoring @julieandthephantoms in lights all over the world …with gratitude and endless love. . . 💜👻👻👻," he captioned a series of photos of the billboards from across the world.
JATP stars Jadah Marie and Sacha Carlson also shared their love for the fans in the comments of Kenny's post.
"😩😩😩♥️♥️♥️the love is reall!!" Jadah wrote.
"Best fans in the world. ❤️❤️❤️," Sasha said.
A week prior, Kenny echoed the sentiment in another post.
"The @julieandthephantoms #Fantoms keep showing their love and support with these billboards across the world. We love and appreciate you! 💜💜. Thank you to @adultsandthephantoms @jatppositivity @orpheumphantom @emmaandtheunfinishedbusiness" he wrote.
The fans have even set up a website with all the information about the billboards, how you can help and more at savejatp.com!
Despite it's cult following and numerous awards, including multiple Daytime Emmys, Netflix did not move forward with the show after it's one season.
Fans have been rallying for the show to be picked up by another streaming service.
Even the stars of the show, Madison Reyes, Charlie Gillespie and Owen Patrick Joyner, were hoping for another season!
Like Just Jared Jr. on FB