Fri, 04 March 2022 at 12:51 am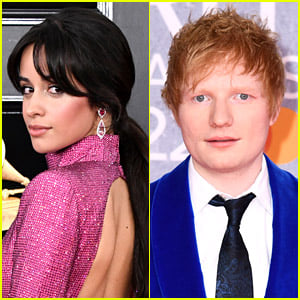 Camila Cabello's new album Familia will be released next month and the second single, "Bam Bam," is out now.
The new song features Camila's longtime friend Ed Sheeran!
"The first idea of it was written a while ago," Camila told Apple Music about the new song. "So we had a verse different chords, and we had this chorus, and it basically came from the idea of a lot of my favorite Latin music that I listened to growing up, lyrically, they have this life message in a song and it's very mostly this theme of, 'I'm heartbroken and sometimes life sucks,' but having a sense of humor about it and being like, 'That's f***ing life.' And I love the juxtaposition of that, of it being you're dancing, but you're also like, 'Haha, I got fired and divorced. Haha.'"
Camila continued, "I wanted to make a song that had English words, but gives me that same feeling that a lot of these Latin songs give us. And so basically, we had this version of the song. And then by the time that Ed [Sheeran] had heard it and been on board to do it, I was in a different place in my life. I'd come out of this long relationship. And also, Ed was like, 'Okay, I love it but I want to change the chords on the verse.' And so he had a morning… Ed is the busiest fricking guy in the world. I don't know how he does it, but he had a morning off. And so me, him, Ricky, and Scott Harris went in the room and we all wrote my verse, and his verse, recorded it, and finished the song."
Click inside to listen to the new song…
Camila sings in the new song, "Así es la vida, sí / Yeah, that's just life, baby / Yeah, love came around and it knocked me down / But I'm back on my feet."
Listen below and download the song now on iTunes.
Read the lyrics for "Bam Bam" below!
Like Just Jared Jr. on FB