Wed, 16 March 2022 at 7:36 pm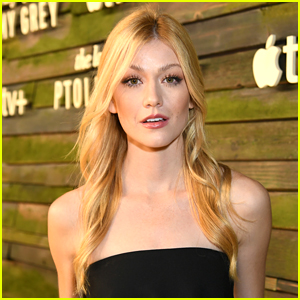 Katherine McNamara is heading back to The CW for Walker: Independence!
It was just revealed that the Arrow actress has been cast in the leading role of Abby Walker for the potential Walker prequel, according to Deadline.
Click inside for more…
Walker: Independence is an origin story and is "set in the late 1800s and follows Abby Walker (McNamara), an affluent Bostonian whose husband is murdered before her eyes while on their journey out West. On her quest for revenge, Abby crosses paths with Hoyt Rawlins, a lovable rogue in search of purpose. Abby and Hoyt's journey takes them to Independence, Texas, where they encounter diverse, eclectic residents running from their own troubled pasts and chasing their dreams. Our newfound family will struggle with the changing world around them, while becoming agents of change themselves in a town where nothing is what it seems."
Abby Walker is "a tough-minded woman, moving across the country with her husband to a new life in Independence. After her husband is killed by a horse thief in the night, Abby wanders grief-stricken through the brush and finally into the town of Independence. She takes on the name of 'Walker' and sets about building her strength (personal and financial), because she's going to be the first Walker to go to war against overwhelming odds. The first but not the last…"
Katherine joins previously announced Matt Barr as Hoyt Rawlins, as well as these other actors!
The CW has ordered a pilot for Walker: Independence, but the show has not yet been picked up to series.
"A girl walks into a western… there's a new Walker in town. So thrilled to saddle up and join @tengstagram and this amazing cast and crew for an epic journey out West. I cannot begin to express how honored I am to be handed the reigns of the WALKER legacy along with @matt_barr_ Now, pass the whisky y'all and let's ride down this trail together!" Katherine shared on Instagram.
This news comes just a day after it was announced that Katherine has recently wrapped filming on the movie Jade, James Bamford's directorial debut.
The upcoming film "centers on Jade (Shaina West), who swore she'd never pick up another gun after her brother's untimely and accidental death at her own hands. But when she unknowingly comes between powerful businessman "Tork" (Mickey Rourke) and her former gang leader (Marcus Vincios Maciel) in their urgent search for a valuable hard drive that could single-handedly take down Interpol, she may not have a choice.
Jade's incredible skills are tested as she must run, climb, hide, fight and do whatever it takes to protect not only herself, and the precious cargo she carries, but also her brother's ex-girlfriend, Layla (McNamara) who is carrying something precious of her own: Jade's unborn nephew. With the guidance of Reese (Mark Dacascos), an old friend at Interpol, Jade must come to terms with all she's faced in the past and present to defeat insurmountable odds and clear a path to her growing family's future."
Congratulations Katherine!!!
Like Just Jared Jr. on FB