Fri, 15 April 2022 at 8:24 pm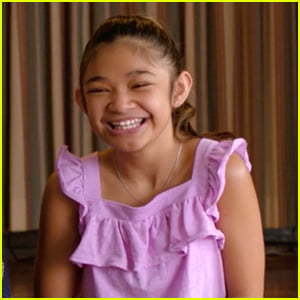 Angelica Hale has made her acting debut in the new movie American Reject, which is out now!
The 14-year-old singer plays Anna in the movie, which follows a singing hopeful (Kathleen Elizabeth Monteleone) on America's hottest singing competition is catapulted into the depressing afterlife of reality television fame.
VIDEO: Watch the American Reject trailer here!

We recently spoke with Angelica to get all the details on what it was like filming her first movie, working with her co-stars and more.
Check out our interview inside…
See what Angelica shared with JJJ in our exclusive interview below…
Just Jared Jr: Seeing as this is your first movie, what was the audition process like? Was it nerve-wracking?
Angelica Hale: I first auditioned for American Reject, and then some time later I got a call back to meet with Kathleen Monteleone, who played the main character and wrote American Reject. She was so sweet, and we worked on some of the scenes I did from my audition together. We broke down the story of American Reject and my character, Anna.
JJJ: What was your reaction like when you found out you got the role?
AH: I was shocked when I first found out I got the role! I was mostly excited to start filming, I think that was the most exciting part of finding out. Realizing I was actually going to be on a movie set!
JJJ: How did you prepare for the role ahead of filming?
AH: When I was preparing for my role… I channeled the deepest parts of me to connect to Anna, being vulnerable with myself. Acting is a way to convey your true emotions in its' pure form, for people to get a glimpse of that is beautiful.
JJJ: Did you bring any of your performing techniques to acting?
AH: Performing and acting have many similarities. I feel like acting takes it a bit further in terms of storytelling, but my prior experience with being on stage and performing definitely helped me with my acting!
JJJ: What was it like working with veteran actors like Connie Ray and Mary Birdsong?
AH: Working with so many experienced actors was very awe inspiring and a true pleasure. I learned quite a lot and I'm grateful I got to work alongside them.
JJJ: What was the most difficult part about acting in your first project?
AH: The most difficult part was probably preparing for my role and all the scenes, but it was all worthwhile as it made the actual filming process go smoothly!
JJJ: Easiest part?
AH: The easiest part I would say was the actual filming process, I felt confident in myself and in my prep work, so I got to have fun and do my best out on set!
JJJ: You have experience being in front of the camera from AGT, did that help you in any way going into this?
AH: Having prior experience to being on camera on AGT definitely made me feel more comfortable in general being on camera. I think one thing to always remember when being on camera is to train your brain into thinking it's not there! Focus on your scene partner and immerse yourself in the scene.
JJJ: What was your favorite part about being on this film?
AH: My favorite part of being on this film was being part of such a loving and dedicated team. You could really tell that everyone was having the time of their life and that they were giving their all for this project. Very grateful I had the opportunity to bring the movie to life and to be a part of the team.
JJJ: Now that you have your first film under your belt, do you want to do more acting?
AH: I absolutely want to do more acting! Even when I was younger, acting was something I was always interested in and strived to work on. I want to continue this and hopefully star in more amazing films!
JJJ: What would be your dream role?
AH: My dream role would be to be the lead in my own show, I think that would be beyond incredible.
JJJ: You worked with Keala Settle, who is a Tony award nominee. Would you ever want to do Broadway?
AH: Keala was so incredible to work with. At the time, The Greatest Showman had come out and I was such a huge fan of her voice and role in the movie. Broadway is absolutely something I want to pursue! To star in a Broadway show would be unbelievable.
JJJ: What's next for you? New music?
AH: I have been working on my songwriting with the goal of making a full album in the near future. I am about to hit 3 million subscribers on YouTube, that'll be a huge milestone! I have also just been a part of the release of a duet with fellow AGT contestant Kechi Okwuchi, "Touch the Sky". It's an awesome song, very glad to have been a part of it, so go ahead and check it out!
Check out Angelica Hale in her first movie, American Reject, available on digital and on demand now!
Like Just Jared Jr. on FB