Wed, 27 April 2022 at 5:25 pm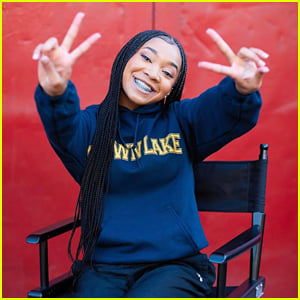 We are learning more about Mya Nicole Johnson!
The young actress and dancer can be seen starring in the third season of Brat TV's Crown Lake series, which is airing now.
Mya portrays Lisa on the show, where season three fast forwards to present day from the 90s, as a new class arrives at the prestigious Crown Lake Academy.
Learn more inside…
Here's a synopsis: When new girl Molly starts at Crown Lake, she hears whispers of a bully who used to wield power over the students with nothing but a mysterious journal. It's considered a wives' tale now; anyone who knew the real story long ago graduated. But when Molly finds one of those journals wedged in her room, she has to figure out…who is Heather? Why did she disappear? And what does she want?
Molly is introduced to this exciting new world through her roommate, Ariadne, the youngest of three sisters who all go to Crown Lake. As Ari shows Molly the ropes, and the two try to put together the mystery of Heather, they find themselves in increasingly dangerous situations.
JJJ recently caught up with Mya and got to know 10 Fun Facts about her. Check 'em out below and watch the latest episode of Crown Lake!
1. I love ALL things Nike.
2. I made a viral dance challenge with my friend to Cardi B's "Up."
3. Track is my favorite sport.
4. I have competed in the Junior Olympics twice for track.
5. I have 1.5 M followers on IG.
6. I love to make TikToks.
7. Jordan's are one of my favorite shoes.
8. I loves creating YouTube content.
9. I loves to travel.
10. One of my dances was made into a Fortnite emote.
Like Just Jared Jr. on FB