Tue, 03 May 2022 at 4:33 pm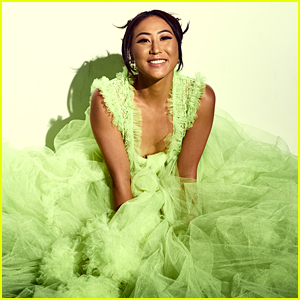 Lizzy Capri is opening up about some things you may not know about her!
The YouTuber and philanthropist can currently be seen starring in the Brat TV series Crown Lake, where she plays the teacher Ms. Lin.
Learn more inside…
In the current third season, it's twenty five years later – 2022: When new girl Molly starts at Crown Lake, she hears whispers of a bully who used to wield power over the students with nothing but a mysterious journal.
It's considered a wives' tale now; anyone who knew the real story long ago graduated. But when Molly finds one of those journals wedged in her room, she has to figure out…who is Heather? Why did she disappear? And what does she want?
Molly is introduced to this exciting new world through her roommate, Ariadne, the youngest of three sisters who all go to Crown Lake. As Ari shows Molly the ropes, and the two try to put together the mystery of Heather, they find themselves in increasingly dangerous situations.
A new episode, "The Past Comes Knocking," just dropped on Tuesday (May 3) and you can watch it right here.
JJJ caught up with Lizzy and learned 10 Fun Facts about her. Check 'em out below!
1. My favorite color is blue.
2. I have two dogs, Milli and Kona.
3. I am allergic to apples.
4. My favorite place to vacation is Hawaii.
5. I caught an 11FT shark once.
6. I have been skydiving twice.
7. My favorite food is Sushi.
8. I used to be on the swim team in college.
9. I am dating a famous YouTuber.
10. One of my favorite hobbies is fishing.
Like Just Jared Jr. on FB