Mon, 06 June 2022 at 1:00 pm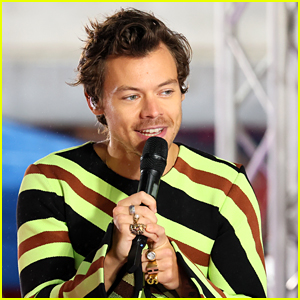 Harry Styles is opening up about finding the balance in life.
The 28-year-old musician and actor dished on investing in a work/life balance and wanting to just be solely defined by his career.
"You miss so many birthdays and stuff like that. And then eventually, it's just assumed that you're unable to be at stuff," Harry told Apple Music last month.
Keep reading inside to see more of what he said…
"I think that was one of the things where I was like, 'Oh, I want to take a second to invest some more time into balancing my life out a little bit,'" he continued. "This working is not everything about who I am, it's something I do. And I don't want to be defined as a person necessarily by what I do all the time. I want to be able to put that down."
"For a really long time, I didn't really know who I was if I didn't do this. And that's really scary because you go like, 'Okay, well if this ends, am I going to be good at handling it? What am I going to feel like?'" Harry shared. "And I think it just gave me an opportunity to get comfortable with who I am and get to know that person a little bit more."
Harry also said that releasing "As It Was" was the most relaxed he's felt releasing anything.
"Putting out the first single from this album was far and away the most relaxed I've ever felt putting anything out. I no longer feel like my overall happiness is dependent on whether a song goes here or goes here."
The single has gone on to be a big hit. It has recently appeared at the top of both the Billboard Hot 100 and the Billboard Global songs charts!
If you missed it, his latest album Harry's House also debuted at No 1 in it's first week.
Like Just Jared Jr. on FB