Wed, 08 June 2022 at 1:01 pm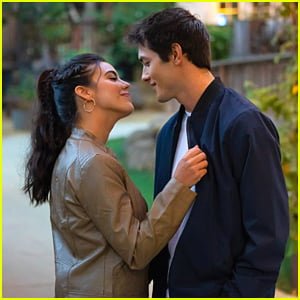 Griffin Johnson and Samantha Boscarino go in for a kiss in this exclusive first look photo from their upcoming movie Diamond in the Rough!
The 23-year-old social media star and the 27-year-old actress lead the upcoming film, which will be released exclusively on Creator+, as well as in limited theaters.
Griffin not only stars in the movie, but he's also a producer.
In addition to this first look photo, we can also reveal when the movie will be released, and we have a first look at the movie's poster!
Click inside to see more…
Here's a synopsis: In an attempt to get her to make new friends post-college, Ariana's Tio George, gifts her with a summer membership to an upscale country club. She ends up discovering that the upscale members of the club resemble a lot of what she experienced back in high school, with its exclusive cliques and mean girls who rule the golf course. Will her time at the country club change Ariana, or will it be the other way around?
Directed by Jeannette Godoy, the upcoming film also stars Caitlin Carver, David Koechner and Rizwan Manji.
Diamond in the Rough will be out on Creator+ on June 29th. Stay tuned for the trailer!
Click through the gallery to see the poster and a closer look at the exclusive first look photo…
Like Just Jared Jr. on FB