Fri, 17 June 2022 at 2:18 pm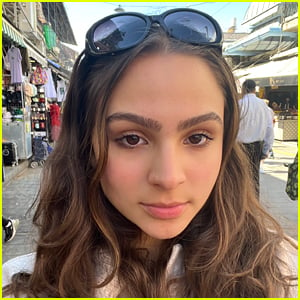 Yael Danon has released her latest single "Teddy Bears," along with the accompanying music video!
The 16-year-old trilingual singer/songwriter's new track is the first single from her upcoming EP Diary Girl.
"Surprisingly there was quite a good amount of drama in my life during quarantine (I have no clue how), and decided I wanted to write about it," Yael shared about her new music.
In celebration of her new single, we got to know 10 Fun Facts about Yael Danon.
Check 'em out inside…
See what she shared below…
1. I have a Golden Retriever called "Goldie" (very original I know).
2. I used to want to become a lawyer when I was younger (I still do sometimes).
3. I am the director of the department of Creative Strategies in an anti-bullying NGO, Ni Uno Mas.
4. The first song I've ever performed was "Let it Go" (from Frozen).
5. When my mom was pregnant with me, she called me Unju.
6. I won Israel's Got Talent when I was 13 years old.
7. Reading is one of my passions (I'm a sucker for novels and self-help books).
8. I danced for 8+ years and competed in international and national dance competitions.
9. I love writing essays (sorry not sorry).
10. I have kept my diaries since 3th grade in my "memory lane" box.
Check out the "Teddy Bears" music video right here, and be sure to download the song!
Like Just Jared Jr. on FB