Tue, 28 June 2022 at 7:30 pm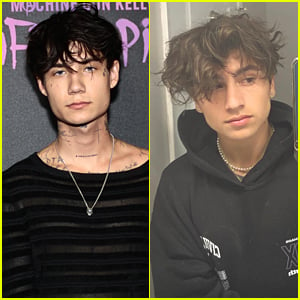 jxdn, aka Jaden Hossler, is honoring his late friend Cooper Noriega with two brand new songs for what would have been his 20th birthday on Tuesday (June 28).
The 21-year-old singer went into the studio with Travis Barker just days after his friend passed away earlier this month.
"It felt like everything just stopped for me, and even to this day it still feels that way," jxdn told Billboard. "But especially the days after, I felt like I couldn't do anything, couldn't go anywhere, and I didn't really have any words to say. I was getting really frustrated. I didn't know what to do."
Listen to the songs and find out more inside…
"Travis has really experienced everything that a person can experience, and he's gone through this for sure," Jaden added. "So I go to the studio and we didn't plan anything, we were just talking about Cooper and how amazing he was. We weren't worried about what the songs were gonna be, we were making them because it was therapy."
Jaden and Travis also worked on the songs with artist Aldae, songwriter/guitarist Nick Long and singer/songwriter Liza Owen.
On Instagram, Jaden shared, "With the release of this project it's important everyone knows the positive impact Cooper's story brings. Cooper had dreams to help the world and make the world a better place. The Noriega family has set up a foundation where all proceeds from this project will be going to. The Coop's Advice Foundation will be launching this week so please follow @coopsadvice for all upcoming developments. I hope you all can find peace in these songs and join me and his family in celebrating the life of a beautiful boy. Thank you."
"His legacy should be positive," he added to Billboard. "Cooper would genuinely be so happy that he's making and made such an impact on so many people, and that's all I want to show to the world."
Listen to "Beautiful Boy" and "Even in the Dark" right here, and be sure to purchase the songs HERE!

jxdn – 'Beautiful Boy'

jxdn – 'Even in the Dark'
Like Just Jared Jr. on FB