Wed, 29 June 2022 at 9:04 pm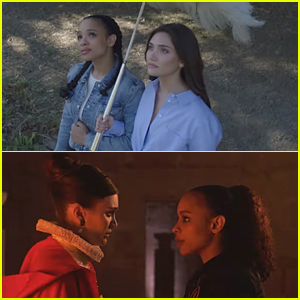 We finally have a premiere date for the upcoming Vampire Academy series!
The upcoming adaptation is of course based on the novels by Richelle Mead, and comes from Julie Plec and Marguerite MacIntyre.
In addition, Peacock has revealed the premiere dates for several more new series, as well as new seasons of existing shows.
See all the dates inside…
Sisi Stringer and Daniela Neaves lead the cast of Vampire Academy, which follows two young women's friendship that transcends their strikingly different classes as they prepare to complete their education and enter vampire society. One as a powerful Royal, the other a half-vampire Guardian trained to protect against the savage 'Strigoi' who threaten to tear their society apart. That is, if Royal infighting doesn't do the job first.
Vampire Academy will consist of 10 episodes and premiere on September 15th.
Also coming out is McKenna Grace's upcoming limited series A Friend of the Family, One of Us is Lying season two, Dragon Rescue Riders: Heroes of the Sky season four, and more.
Check out all of the upcoming Peacock premiere dates below…
* – Previously announced date
July 8 – Trigger Point*
July 11 – Days of our Lives: Beyond Salem (Chapter 2)*
July 28 – The Resort*
August 18 – The Undeclared War*
August 25 – Everything I Know About Love
September 8 – Last Light
September 15 – Vampire Academy
September 29 – Dragons Rescue Riders: Heroes of the Sky (S4)
October 6 – A Friend of the Family
October 20 – One Of Us Is Lying (S2)
November 3 – The Capture (S2)
November 10 – The Missing (wt)
November 23 – Pitch Perfect: Bumper in Berlin
November 30 – Irreverent
December 22 – The Best Man: The Final Chapters
Like Just Jared Jr. on FB