Fri, 15 July 2022 at 7:05 pm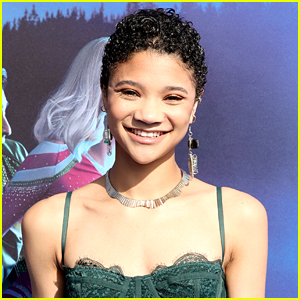 Kylee Russell is opening up about filming Zombies 3.
The 25-year-old actress, who plays zombie Eliza in the new musical movie, Zed's tech-savvy best friend and voice of reason. She's an activist and a rebel at heart.
WARNING: The rest of this post contains spoilers for Zombies 3. Do not read ahead if you don't want to know any plot points!
Keep reading to find out more about Kylee's role in the third movie…
In the movie, Eliza is only seen virtually talking to the rest of the characters, over a screen and via a robot body. In her location, she is the only person around.
Zombies 3 was filmed in the summer of 2021, with production starting at the end of May and going through July.
If you didn't know, Kylee was actually pregnant with her first child at that time, daughter Greyson Blue Schmidt, who just turned one year old this past Sunday (July 10).
The actress was close to the end of her pregnancy when filming began, and had her baby during production. Because of this, you'll notice in the movie, you only ever see her upper half, mainly from her chest up.
In a recent interview, Kylee dished on what it was like filming her scenes away from the rest of the cast.
"It was so different 'cause I'm used to being with everyone and feeding off of everyone else's energy, but this time, I just had their voice recordings and I'm talking to a screen. And there was no one even on the screen," she told Laughing Place. "It was still really fun, and it was a challenge, and I like challenging myself. It was overall an amazing experience."
She also dished on how she filmed right after having her baby and bringing her newborn to set.
"I filmed that shortly after having my daughter Greyson. I brought her on set with me, and honestly, having her on set makes it so much better. I don't know how I would've done it if she was at home," Kylee told Girls United. "I would've just been like, 'I need to go see my baby.' Being able to bring her to work with me puts me at ease because it's like, I can do my thing, go to my trailer, see my kid. Everything's good and then I feel recharged to go back."
Like Just Jared Jr. on FB