Fri, 12 August 2022 at 9:18 pm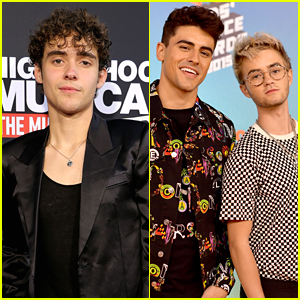 Happy New Music Friday!!
There are a few new songs that we think you have to check out this week, including new releases from Joshua Bassett, and the return of Jack & Jack.
They also have new music videos to go along with the new tracks. YDE, Hayley Orrantia and Trevi Moran dropped new music as well.
Check out the new music inside…
Check out the new music below…
Joshua Bassett – "Smoke Slow"
"This song is about savoring those moments together with a person you feel close to, but know you can't be with. Since I couldn't say it aloud, of course, I had to write a song about it – ha!" Joshua said in a statement.
The song is his latest release, with more new music on the horizon. If you missed it, he recently shared a tour update!
Jack & Jack – "Runaway"
This is Jack & Jack's first release together in three years. They wrote this song last year after losing a friend to drug addiction. After seeing so many people they know struggle, the duo wanted to return to music with a track that their fan base can relate to.
The music video shows the struggle of a girl, played by director and actress Keana Issartel, who loses her best friend to addiction, played by actress Saxon Sharbino, and is dealt to deal with the aftermath.
Jake Miller – "Keep Her"
"This was the first time in years that I wrote, directed, and edited an entire music video from start to finish. It was a lot of work, but it turned out 10 times better than I expected. This is the perfect summer song and video to make you smile," Jake said. A new EP will be out this fall!
YDE – "Normal to Feel"
"this song will forever hold such a special place in my heart. it captured the beauty of feeling during a time when i wasn't quite sure how or what to feel," YDE shared about the song on Instagram.
Hayley Orrantia – "Gasoline"
"I wrote this song after hearing my fiancé Greg [Furman] say to our friend, 'It's hard to burn a bridge when you're standing on it,' when referring to an on-again-off-again relationship. That line sparked the whole concept," Hayley shared in a statement. "My producer Ben [Zelico] had a great idea for the hook that sums up that feeling of a toxic cycle. It was so great to collaborate with my fiancé in this way, especially since we got to shoot the music video together as well."
The music video was directed by Hayley's fiancé Greg and produced by her.
Trevi Moran – "too hot to be this hungover"
"This song is my power anthem of how I learned to love myself again and regain strength in my sobriety," she said.
Like Just Jared Jr. on FB