Fri, 12 August 2022 at 7:35 pm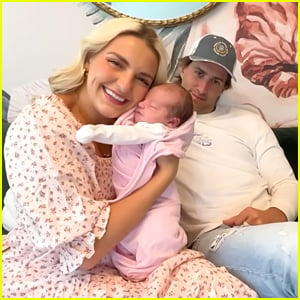 Rydel Lynch and Capron Funk are revealing the name of their newborn daughter!
The couple welcomed their second child earlier this week, right before Rydel's birthday.
"what a whirlwind 😅🥰" she captioned a post from the birth day.
Now, they've revealed their daughter's name, which is a bit unique like her big brother Super.
Click inside to find out…
"Her name is Sweetie. Sweetie Mary Funk," Rydel and Capron shared in a new YouTube video on their channel.
She then further explained where the name came from, and it's so sweet. (Pardon the pun!)
"Sweetie mostly came from that being sort of my nickname all growing up," Rydel said. "My mom has always called me 'my sweet Rydel,' 'sweetest girl,' 'my sweetest girl,' like all the time. Every note I have from her literally says 'my sweetest girl' and then like, I have many notes from her, so that's kind of the main inspo, and it's so cute, and she is the sweetest."
They also shared that her middle name Mary comes from both of their moms' moms, whose names are both Mary.
Another fun fact Rydel shared – Capron and Super are both born in April, while her and Sweetie are both born in August. So cute!
Welcome to the world Sweetie!!
Like Just Jared Jr. on FB