Mon, 05 September 2022 at 6:54 pm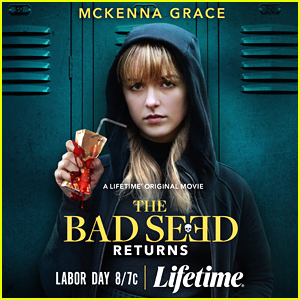 Mckenna Grace returns as Emma in The Bad Seed Returns TONIGHT (September 5)!
The 16-year-old actress reprises her role from the first Bad Seed movie for the new sequel, which she co-wrote and executive produced.
Ahead of the Lifetime premiere, Mckenna shared a post on Instagram and revealed the version that is airing on the network is different from what she originally wrote with her dad.
Get more info inside…
"Tonight the TV movie I wrote over quarantine, The Bad Seed Returns comes out. Thank you @lifetimetv and Mark Wolper for giving me my 1st opportunity to write and produce and of course @roblowe and @bettymaecasting who started this entire journey 5 years ago!" the actress wrote.
"I really had a lot of fun making this movie, despite it being a pretty hard shoot. It was my first time producing on a film, we only had 5 weeks to film it, we were still in the midst of covid craziness, I was finishing a tough class in my fall semester, and was also in my 5th month of training 6 days a week for a different film. The cast and crew (some who I worked with on the 1st film!) made it a really great experience. Thank you to our director, Louise Archambault and to everyone who worked so hard to make this with us! Special thank you to Patty McCormack (the original Bad Seed), for creating such an iconic character and for making another appearance in our film!"
"Please be gentle with me…the film is different than the initial script we wrote…our version was too dark for television, so they had to lighten it up a bit. Excited to keep writing and creating!🖤," Mckenna concluded.
In case you missed it, you can watch the trailer for the movie here!
Tune in for The Bad Seed Returns TONIGHT (September 5) at 8pm ET/PT on Lifetime.
Like Just Jared Jr. on FB