Wed, 07 September 2022 at 8:19 pm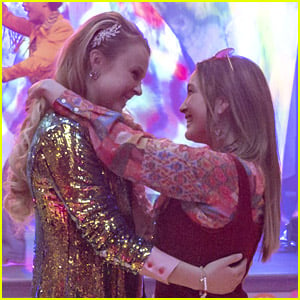 JoJo Siwa and Saylor Bell got along very quickly on the set of High School Musical: The Musical: The Series!
The 19-year-old entertainer appeared in the most recent episode of the Disney+ show as Madison, former camper and the ex girlfriend to Saylor's Maddox.
"It's crazy to think that I'm a part of this world now. It's wild!" JoJo told ET. "I remember when I first got the ask, I immediately was like, 'Yes. Don't know when, don't know who, don't know how, but yes, make it happen,' to my team. And they did. It was honestly some of the most fun days of my life while filming this show. The cast is so kind, the crew was awesome. I mean, everything about this show was just perfect."
She also opened up about bonding with Saylor quickly on set.
Find out what she said inside…
"Saylor, who plays Maddox, is an incredible human and so fun to work with. We laughed. We literally bonded so quickly in one day it was insane," the dancer gushed. "Everybody was like, 'Wait, you guys really didn't know each other before this?' And we were like, 'No, we literally met an hour ago.'"
"We both just had an unspoken, 'You're down? I'm down. OK. Let's go,' you know what I mean?" JoJo remembered. "We both decided that if we want to make this as great as possible, we're just going to have to dive into the deep end head-first. We both did and we both committed. And it worked."
JoJo is even down to reprise her role in the show in season four, if she so happens to get the chance.
"I told everybody at Disney, I told [creator] Tim [Federle], whatever they want me to do for this show I'm down. Because not only is it the coolest show to be a part of, but it also is just such a great environment to be immersed in that I would do anything," JoJo told ET.
Saylor and Adrian Lyles, who plays Jet, Maddox's brother, are both series regulars this season, however, full casting hasn't been announced yet for the next season. Filming does kick off this month though, so we could find out if they will be back soon enough!
Like Just Jared Jr. on FB