Thu, 15 September 2022 at 6:44 pm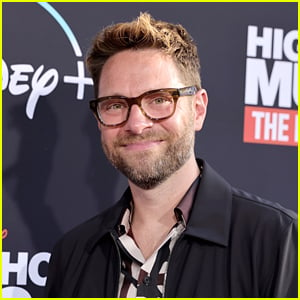 WARNING: THIS POST CONTAINS HIGH SCHOOL MUSICAL: THE MUSICAL: THE SERIES SEASON 3 FINALE SPOILERS!
Tim Federle is opening up about that season three finale moment that was long in the making!
The creator and showrunner penned the episode himself, and even kept the very last scene a secret from most of the cast and crew.
"Final page of the Season 3 finale script. Some secrets are worth keeping 😉," he teased on Instagram after the episode came out.
Click inside to find out what he said about the finale moment…
SPOILER ALERT!!!
At the end of the episode, Gina and Ricky finally had a talk and she dished how he was never the plan but she does in fact have feelings for him. As she went to walk away, he stopped her and kissed her! Something Rina fans have been dying to happen since season one.
"Josh [Bassett] and Sofia [Wylie] are incredible actors. Ricky and Gina are so fun to write for, and these two characters understand the other one like nobody can. They both share a lot. They actually have a lot in common," he told ET.
"Cliffhangers are fun, but sometimes you also have to breathe," he continued. "I felt that, for what the fans have gone through over these last three seasons, at least for the Gina-Ricky fans, it was time to give the world a little bit of a win."
Tim added that when he wrote the pilot, Rina wasn't a big plan for the future.
"I think 'Homecoming' changed everything and the performance of Josh and Sofia in that car changed the trajectory of the show forever," he said.
Additionally, Tim teased what's next for Gina and Ricky.
"At a bare minimum, Ricky's a senior in high school, Gina's now an upper-class person and they have a lot to figure out about their lives after high school, too. It's going to be a matter of Ricky, who's so afraid of change, and Gina, who has gone along with her mom's crazy schedule her whole life, moving to different places," the writer shared.
"She finally gets to have her own place. In terms of obstacles, the biggest obstacle is the world is now going to have opinions on these characters who are in a documentary and what are they going to do about that? That's some of the stuff we're going to be exploring in season 4," he added.
If you missed it, find out what's next for this other character…
Like Just Jared Jr. on FB