Mon, 19 September 2022 at 3:18 pm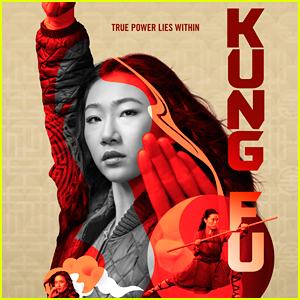 Olivia Liang and Ben Levin are back on the same CW series once again!
The two previously co-starred on Legacies, as classmates and friends with benefits, and are now reunited on the upcoming season of her new show Kung Fu, which has a new season trailer out now.
Watch the trailer and learn more inside…
Here's a synopsis: After an earthquake hit Chinatown in the season two finale, season three opens with Nicky (Liang), her family, and her community attempting to rebuild in more ways than one. Nicky, still reeling from her abrupt breakup with her boyfriend Henry (Eddie Liu), and the shocking death of her nemesis-turned-ally Zhilan (Yvonne Chapman), puts on a brave face as she juggles a new job teaching kung fu while fighting a growing crimewave in San Francisco.
Mei-Li (Kheng Hua Tan) struggles to keep Harmony Dumplings afloat, while rebuilding the restaurant; and Jin (Tzi Ma) helps the rest of the community get back on its feet. Althea (Shannon Dang) has lost her company and finds herself jobless, living in the cramped Shen house, while Dennis (Tony Chung) works a variety of service gigs to help make ends meet.
Ryan (Jon Prasida) adjusts to cohabitating with boyfriend Sebastian (JB Tadena), while working fulltime as an ER resident; and Evan (Gavin Stenhouse) embarks on a new legal venture. But just as Nicky and the Shens are finding their footing, Nicky is thrown on her heels by the introduction of a mysterious vigilante, Bo (Levin) — and the shattering return of a woman who appears to be her deceased shifu, Pei-Ling (Vanessa Kai).
Pei-Ling's shocking return will engulf Nicky in an epic and dangerous story, filled with mystery and magic… a story that will have momentous consequences for Nicky and the whole Shen family.
Find out more about Ben's character here!
Kung Fu season three premieres Wednesday, October 5th at 9pm ET/PT on The CW!
Like Just Jared Jr. on FB
Photos: The CW
Posted to:
Ben Levin
,
Eddie Liu
,
Gavin Stenhouse
,
JB Tadena
,
Jon Prasida
,
Kheng Hua Tan
,
Kung Fu
,
Olivia Liang
,
Shannon Dang
,
The CW
,
Tony Chung
,
Trailer
,
Tzi Ma
,
Vanessa Kai
,
Yvonne Chapman