Mon, 05 December 2022 at 8:54 pm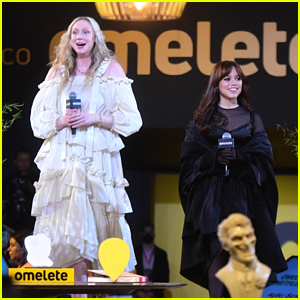 Jenna Ortega and Gwendoline Christie take the stage, as well as Thing, at CCXP22 on Saturday (December 3) in São Paulo, Brazil.
The Wednesday co-stars were among the many celebs in attendance at the big event, formerly called Comic-Con Experience.
That same weekend, an interview quote from Jenna went viral and it has to do with the big dance sequence that she choreographed herself.
Click inside to read more…
"I choreographed that myself!" Jenna told NME. "I'm not a dancer and I'm sure that's obvious. I'd gotten the song [The Cramps' 1981 single 'Goo Goo Muck'] about a week before and I just pulled from whatever I could… it's crazy because it was my first day with COVID so it was awful to film."
Jenna added, "Yeah, I woke up and – it's weird, I never get sick and when I do it's not very bad – I had the body aches. I felt like I'd been hit by a car and that a little goblin had been let loose in my throat and was scratching the walls of my esophagus. They were giving me medicine between takes because we were waiting on the positive result."
"I asked to redo it but we didn't have time. I think I probably could have done it a bit better," she said.
Wednesday's production company MGM said "strict COVID protocols were followed and once the positive test was confirmed production removed Jenna from set."
After the info resurfaced from earlier in November, many pointed out the dangers and health and safety issues with Jenna being on set with COVID. See what people were saying on
If you missed it, Wednesday smashed records on Netflix and Jenna also shared what she hopes for her character in a possible second season.
Like Just Jared Jr. on FB