Mon, 03 July 2017 at 7:03 pm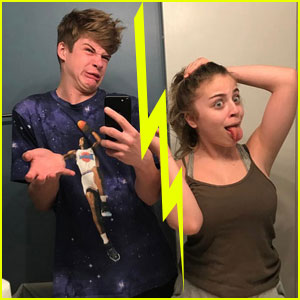 This is heartbreaking! Social stars Baby Ariel (Ariel Martin) and Blake Gray have broken up after eight months together, though they seem to have split amicably.
"I'm not the same person that I was 8 months ago," Blake tweeted yesterday (July 2), "Ariel and I decided to take a break from each other for right now. We're still gonna be really close. Gonna miss you."
He also tweeted: "it's time to find out who I really am," implying that that may be a factor in their split, then adding that when it comes to social media celebrities, people aren't always who they pretend to be.
"Most of y'alls idols aren't what y'all think they are," he said, before clarifying: "I'm not talking about Ariel btw. She is hands down the nicest girl I have ever met. And she's one of the few that are real and not fake. Fame changes people. I think fame changed me. & I'm working on that. I know I'm not in my best place now but in the future I will be. Night."
All Ariel has said on the matter is that she is "hurting a lot right now," and that she needs time to heal.
"I will always love and care about him," she tweeted. After seeing their loving five-month anniversary posts, we totally understand.
We hope that they take all the time they need to heal and to find themselves. It's always heartbreaking to see a couple split, but sometimes it works out for the best.
See all of their tweets about the split inside…
Like Just Jared Jr. on FB