Wed, 11 July 2018 at 2:13 pm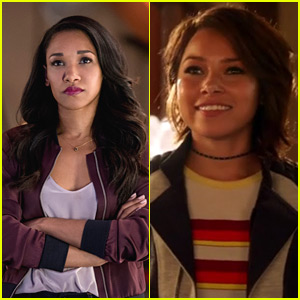 The Flash's season four finale delivered some shocking news – that Mystery Girl was really Barry and Iris's daughter Nora – from the future!
Speaking during a recent appearance, Candice Patton opened up about how Iris could be reacting when season five premieres this fall.
If you remember, the finale left off just after Nora told her parents who she really was and that she had made a big mistake in coming back. This could suggest that there will be major issues ahead.
"I mean, I think anyone in that position would be like 'What the…?' You know," Candice shared at the POPSUGAR Playground festival. "Because it's weird, her daughter came back from the future, essentially at the same age that [Iris] is currently."
She adds, "So, it's super trippy. I think both her and Barry are kinda like 'What the hell?'"
Candice also teased that because Nora is in their present timeline, it could have big consequences for Iris and Barry.
"That also means that, you know, Iris has to be pregnant at some point. When does that happen? How does this affect the time continuum, if she's coming back to the past? Could it fudge up whole storylines? Could Barry and I not be together? I have no idea what'll happen."
We want to know the answers now!
Like Just Jared Jr. on FB