Wed, 11 July 2018 at 9:00 am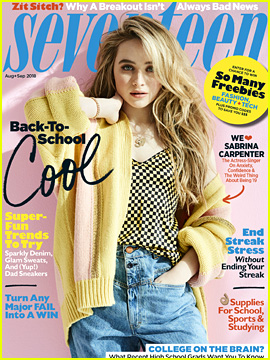 Sabrina Carpenter looks beautiful on the cover of Seventeen's August/September 2018 issue, which will hit newsstands on July 17.
Here's what the 19-year-old "Almost Love" singer and actress had to say..
On dealing with the pressure of fame on social media: "I used to use the Internet as a way to figure out the things I wanted to know, and now I find out things that I don't want to know. About everything…about myself, a lot of the time. Using the Internet as a place to attack people, or to share negative opinions of someone, has always been a really strange concept to me. I look at social media as a way to be a teenager with my friends—to see what my friends are up to and to see their comments. Everyone is going to have an opinion of you all the time, but at the end of the day, I try not to take it too seriously. Until you're face-to-face with me, it's not really real."
On facing her anxiety: "It's probably my biggest struggle, and something I don't really talk about… It's scary when you don't know how to describe what you're feeling. Your head is running quicker than your mouth, and you think, I've never seen myself like this before. It could be stress…it could be teenage hormones. But when it becomes more serious, you have to take care of yourself. So I did. I got to that point in the past two years. And I'm working through it."
On the lyrics in her new album Singular (out later this year): "When I turned 18, [music execs] would say things like, 'People will take you seriously a lot quicker if you just get out there with the mature content.' But I felt that I shouldn't write about that stuff just because I'm 18; I need to do it if I'm actually going through it—and I was never that kid who was doing the [more mature] personal life stuff. I love love, I love getting in depth about it, and I experience all the normal 19-year-old feelings, but I wanted to be cautious."
For more from Sabrina, visit Seventeen.com.
Like Just Jared Jr. on FB