Wed, 03 April 2019 at 11:35 am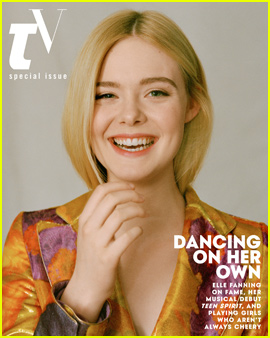 Elle Fanning looks so sweet on the cover of the latest issue of Teen Vogue, available now.
The 20-year-old actress opened up about training for her new movie Teen Spirit, Instagram and being authentic. Check it:
On training with a vocal coach for her role in Teen Spirit: "I've always wanted to sing in a film. Singing was something I've always loved to do, but I've never really gotten to showcase that part of myself. This was a lot more singing than I've ever done before…The stamina is a huge challenge, but I worked forever."
On realizing the importance of authenticity for successful pop artists, like Ariana Grande: "The best pop artists are the ones that are the most authentic…On her most recent album [Thank u, next], you can tell that somebody didn't tell her to release that; it's from the heart. She wanted to do that and wrote those songs herself, and it's more personal."
On the pitfalls Instagram users can fall into: "I find myself curating [my] life. Sometimes you have to remind yourself [not to think], 'Oh, wow, this girl's body!' Our minds are looking at more images than ever before — the instant gratification of it is a little scary. The other day when there was a little Instagram blackout, everybody was like, 'No! What's happening?' But one day you know it's going to have to crash. It's not going to be around forever."
For more from Elle, visit TeenVogue.com.
Like Just Jared Jr. on FB