Wed, 23 September 2020 at 1:00 pm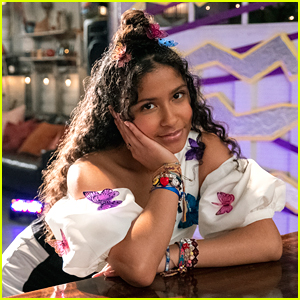 Madison Reyes is opening up about the audition process for Julie and the Phantoms!
The teen actress of course stars as Julie in the Netflix series and it's first professional acting gig.
For the role of Julie, casting directors saw 700 auditions from around the world and sent casting calls to the top 100 high schools with strong arts programs across the US.
Madison's teacher in Allentown, Penn., suggested that she audition, but she almost didn't!
"I was at a very good moment in my life where I was back into music, learning how to play piano, doing well in school, and really focused on self-love," she told YSB Now. "I didn't want this to be what knocked me down… [A few of my peers] were like, 'Why not? You never know what could come out of it. Either you don't do it and nothing happens, or you do it, and you either get it or you don't.' So I took a chance."
"Knowing that I could possibly be that role model for somebody and be the person that someone may look up to really motivated me to want to go and take that leap, especially the fact that my sister might have somebody now that she can look up to and be able to really see herself — and know that she can achieve her dreams no matter how difficult they may seem," Madison told ET.
"To believe in yourself. You shouldn't let people drag you down just because of what your background is or where you come from or where you started. As long as you work hard for it, you'll eventually get there," she added.
In case you missed it, see what the OG Julie said about the new show!
Like Just Jared Jr. on FB