Mon, 30 November 2020 at 3:01 pm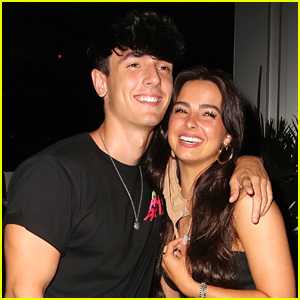 It's official – Addison Rae and Bryce Hall are boyfriend and girlfriend!!
The couple revealed their relationship status in a brand new YouTube video where they got candid about their relationship.
Addison confirmed that they officially became boyfriend and girlfriend on October 13th when Bryce asked her out!
"This is our second time dating, ever," she said. "We are dating, and we've been dating since October 13th. We're dating, officially, and this is going to be really interesting to see where this goes."
Addison also recently opened up about Bryce on Zane and Heath: Unfiltered.
"Everything makes sense now, like I'm not feeling confused, which I feel like that's the worst feeling to have about anything," she said. "When you're confused about it, it's like usually not the right thing, it's like, why is it even confusing in the first place. Now I definitely feel like, I mean, we've gotten to a point where we can talk about what kind of direction everything is and where are, and what we're doing separately. I feel like it's definitely more clear."
"People just see Bryce for like that, you know, the bad things he does or whatever, the stuff he gets involved in. But he is very passionate too and that's what I like, I love about… I did not just say love, oh my god, I did not just say that, no. I do love that about him. I love his drawings and I love that he is passionate about making videos and passionate about almost like producing things in a way, I don't know. I just love that in people, and Bryce has that," she added.
On things he needs to change or work on, Addison said, "Probably just that, the stuff he gets in on the internet. I think for him it's like, I mean, it's never really just oh insane things like, oh this is absolutely horrible, but it's like, okay come on, we could have done without that, you know? I think just thinking twice about things, he needs to work on."
Earlier this year, Bryce revealed the simple reason why the two weren't dating yet, and earlier this month, he dished on their relationship in an interview.

Addison Rae – 'The Truth About Us'
Like Just Jared Jr. on FB