Tue, 22 March 2022 at 4:05 pm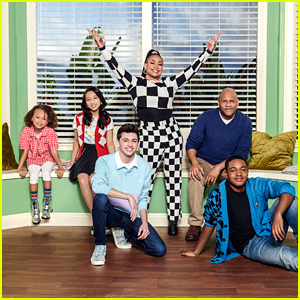 The cast of Raven's Home are joining the nationwide Disney employees walk out in protest of the company's mishandling of their response on the "Don't Say Gay" bill.
Raven Symone shared a video on social media of her with her co-stars Rondell Sheridan, Issac Ryan Brown, Felix Avita, Emmy Liu-Wang and Mykal-Michelle Harris, as well as their executive producers, participating.
See what Raven said inside…
"In support of our LGBTQ+ family and all of those who will be damaged by the "don't say gay bill" we the cast of Ravens Home are walking out. In todays world it is imperative that we take stands, show support, and move forward not backwards. Every family every person and every child deserves to be recognized no matter their race, gender, or sexual orientation. Education that reflects the truth and the world we live in is something we must fight for. #dontsaygaybill #🌈🏳️‍🌈🌈," Raven captioned her post on Instagram. See the video below…
Raven is of course a member of the LGBTQ+ community, and has been married to her wife Miranda Pearman-Maday for just less than two years. They tied the knot in June 2020 in a small, backyard wedding.
The Disney employee walkout was staged in response to the company and CEO Bob Chapek's response to the Florida bill. Get the latest here.
On the same day as the walk out, many Disney companies, including Freeform, Hulu, Disney Parks, Disney+ and more, posted messages in support of LGBTQIA+ employees and allies, and denounced hateful legislation.
Like Just Jared Jr. on FB