Wed, 23 March 2022 at 9:07 pm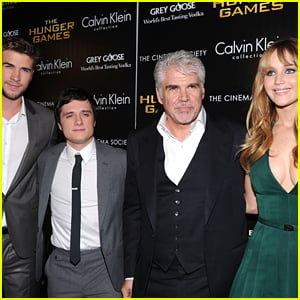 It's been 10 years to the day since the first The Hunger Games movie came out!
The franchise-opener premiered on March 23, 2012 to much success.
Now, on the anniversary of the film, the director Gary Ross, is opening up about the stars' auditions for the movie, which turns out were more formalities really.
Click inside to find out more…
While talking to THR about the movie, Gary shared what it was like when Jennifer Lawrence, Josh Hutcherson and Liam Hemsworth read for their roles.
"Honestly, I had a real sense of who I wanted before the auditions, but because it was a huge franchise the studio wanted everyone to read, which was fine. It was fun, actually," he shared. "Jennifer blew the doors off the place. Josh was pitch-perfect. I had no idea that Liam wasn't American until I talked to him when the reading was over. They were all just great. These were honestly easy decisions for me."
He even opened up about Stanley Tucci, Donald Sutherland and Woody Allen.
"I had just worked with Stanley on an animated movie (The Tale of Despereaux) and I happened to be seated near him at an Italian restaurant on New Year's Eve. I said, 'Stanley, I have a great part for you, I think.' He said, 'Terrific, I'll do it.' I said, 'Don't you want to know what it is?' He said, 'Nah, I trust you,'" Gary said. "He was kidding, of course, but he's a wonderfully enthusiastic fellow. Woody actually passed on the part at first and I had to call him up to talk him into it. He still thanks me all the time, when really, I should be thanking him — he was so great in the role."
"With Donald — and it's a pretty well-known story by now — he wrote me a letter eloquently stating what his character meant to the narrative. I was so knocked out by it I said, 'Well sh-t, that has to be in the movie,'" he shared. "We were shooting by a lake and I took a folding chair down to the water and wrote two scenes immediately informed by that letter. They're both in the final film pretty much unchanged."
Gary only directed the first Hunger Games movie. Francis Lawrence went on direct the other three. He's also set to bring to life a prequel movie – The Ballad of Songbirds and Snakes!
Find out the latest update on that film.
If you didn't know, all four The Hunger Games movies are currently available to stream on Hulu!
Like Just Jared Jr. on FB