Wed, 30 March 2022 at 8:35 pm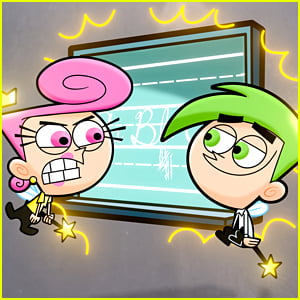 The Fairly OddParents: Fairly Odder is premiering on Paramount+ this week and we're taking a look at the cast of the show!
The new series is a live-action and animated reboot, which follows Ty Turner as he uproots his life to reunite with his high school sweetheart, Rachel Raskin, in the town of Dimmsdale, thrusting his cautious 13-year-old daughter, Viv, into a new world where she does not fit in.
Once there, Viv's cousin, Timmy, entrusts his fairy godparents, Wanda and Cosmo, to help her adjust by taking her under their wings. Witnessing the fairy transfer take place, Viv's charismatic new stepbrother, Roy, also inherits them, and the two siblings must take turns making wishes. Together, they learn to overcome the obstacles in their path, all with the help from their new wand-wielding and wish-granting fairy godparents.
You may be wondering… Are there original The Fairly OddParents voice actors in the new series??
Get the scoop inside…
The answer is YES!
The original voices of Cosmo and Wanda, Daran Norris and Susanne Blakeslee, are back as the voices of the fairy godparents.
In addition, it was just recently revealed that the voice of Mr. Crocker, Carlos Alazraqui, is reprising his role but in live action form – see below! (If you didn't know, he also voices a character on another reboot – The Proud Family: Louder and Prouder.)
The original voice of Timmy's baby-sitter Vicky, Grey Griffin, will also be in the Fairly Odder series, however, she will be voicing a different character, Kitty Katswell, her character from Nickelodeon's T.U.F.F Puppy series.
As far as we know, these are the only original voices returning!
The Fairly OddParents: Fairly Odder will debut all 13 episodes on Thursday (March 31) on Paramount+.
ICYMI: Find out who plays live-action grown up Timmy Turner!
Like Just Jared Jr. on FB