Mon, 25 April 2022 at 5:43 pm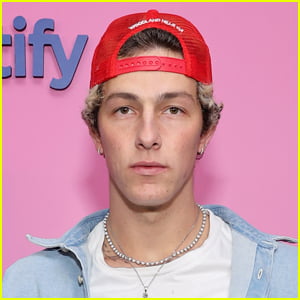 Tayler Holder is speaking out.
Earlier this year, there was speculation that allegations would surface against the 24-year old TikTok star. Around the same time, prominent influencers like Bryce Hall and Loren Gray unfollowed him, prompting some fans to wonder if the rumors were credible.
Tayler initially addressed the situation during an episode of Barstool Sports' BFFs podcast in February, with host Dave Portnoy asking him directly if he expected to face allegations of sexual misconduct.
"If it's something to that extent and that serious, I've dealt with people that have went through stuff like that and it's something that I don't take lightly," Tayler replied. "It's something I don't personally agree with. If it is something to that extent, I don't know why everyone runs to the internet. I think that it should definitely be something that's handled legally offline and very professionally."
He elaborated on the rumored allegations again in an open letter written for E! News, which was published on Friday (April 22).
Click inside to find out what he said…
"To my fans, listeners, haters, supporters and everyone in between," Tayler began. "I write this letter today as I have recently experienced scrapes and bruises that have really taught me great lessons and have made me really look at life through a different lens."
He called the the past year "one of the toughest" years of his life, adding that it had taken a toll on his mental health.
"I went through a very difficult breakup with someone who I cared for — and continue to care deeply for," he said, referencing his split from Charly Jordan. "Because we both lead public lives, the scrutiny surrounding the breakup made things more difficult than it should have been and I did everything in my power to protect our respective privacies. Unfortunately, that was not respected.
Tayler went on to say he was hit with a "series of fabricated rumors, which can only be described as cyberbullying" that contributed to his "cancellation."
"This online harassment took a serious toll on my mental health, and these false accusations cost me dearly on a professional level. Despite exhausting every effort to reclaim my reputation and because I was never confronted with anything specific to which I could respond to, it felt like I was fighting a silent aggressor. This led me to take a hard look at myself, process my feelings and develop the tools to handle the negative effects that the internet can bring," he continued.
"A lot of people get this industry mixed up for what it really is. People don't understand the responsibilities and pressures that come with it," Tayler added. "Unfortunately, in today's world, people tend to ignore the truth and choose instead to focus on the drama no matter how inaccurate it may be. Negativity over positivity tends to generate more buzz. How people view your status and the expectation they put on, no matter how unfair, creates higher standards making it hard to grow as a person."
The social media star concluded his letter by writing that music had become his "personal therapy" and acted as a creative outlet for him to channel his emotions, adding that he hopes his new song "Human" will help his fans as well.
In other TikTok news, it was recently announced that the app would be testing some new features out for users.
Like Just Jared Jr. on FB