Sat, 25 June 2022 at 7:33 pm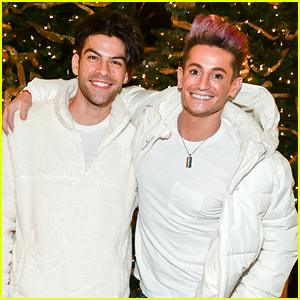 Frankie Grande and Hale Leon are dishing on their wedding last month!
The couple wed in Florida, with a Star Wars-themed wedding, and even honeymooned at Walt Disney World.
However, they were originally going to get married at the theme park, but they pivoted away from holding their ceremony there.
Find out why inside…
"As a high-profile LGBTQIA+ couple, us getting married at Disney would be a huge win for them. Almost like they could say, 'See, everything's fine,'" Frankie told Brides. "Also, we would be channeling our money directly into Disney and we didn't know which side of the bills their dollars were going. It was such a complicated time. So, we ended up pulling the wedding from Disney."
Hale added, "I remember being on an emotional rollercoaster with Frankie, wondering whether or not we can get married there or if they would do the right thing."
Even though they didn't get married there, they still had a "mini-moon" at the resort with a small group.
"We did go to Disney after our wedding. We celebrated with a small group and we went on our mini-moon at the Star Wars Hotel," Frankie shared. "I'm fine with continuing to support Disney because they are making efforts to change and do good things. But it was that stamp of our wedding being at Disney that I didn't want. I don't want our wedding to be weaponized in any way, shape, or form. And I do feel like had we gotten married there, our wedding would have been weaponized."
Frankie also opened up about anti-LGBTQ+ sentiment, and how he kind of felt that's how Disney was being. Reminder, Florida passed the "Don't Say Gay" bill, and though Disney did speak out against it, many felt it was too late.
"I know there are vendors turning away queer couples. They are that anti-gay that they won't even do your wedding. I kind of felt that with Disney a little bit. It was horrible to feel like the place where we wanted to have our wedding didn't want us there, so I'm sending a lot of love to queer couples," the Danger Force actor said. "We are not in the clear yet as a gay community. We are under fire, especially with our trans brothers and sisters and thems and theys. They are really under fire. That is part of our community and we're standing shoulder to shoulder with them."
Like Just Jared Jr. on FB