Wed, 10 August 2022 at 3:23 pm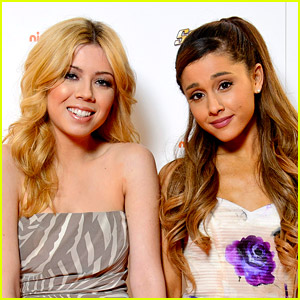 Jennette McCurdy is opening about feeling jealous of her former Sam & Cat co-star Ariana Grande.
The 30-year-old dishes in her new book "I'm Glad My Mom Died," where quite a bit is coming out about her time on Nickelodeon.
Find out more inside
Jennette wrote in her memoir about how Ariana would regularly miss work on the show so she could "go sing at award shows, record new songs, and do press for her upcoming album" and she would have to "angrily hold down the fort."
"I frequently made the mistake of comparing my career to Ariana's and being jealous of everything. Jealous of her childhood, jealous of a music career [that she didn't even want]."
While appearing on Nightline, Jennette recalled that her breaking point was when Ariana came back to work after playing charades at Tom Hanks' house.
"I was jealous specifically that she played charades with Tom Hanks. That's what got me," Jennette said. "But I was so young at the time and I think it's really hard to not compare yourself to somebody at that age when you're in an environment around them all the time. So I made that mistake repeatedly."
"I'm glad to be at a place now where I wouldn't trade positions with somebody," she added.
She also wrote in her book that "I booked two features during iCarly that I had to turn down because the iCarly team wouldn't write me out of episodes to go shoot them."
In another instance, she was upset about Ariana missing a week of work.
"The week where I was told Ariana would not be here at all, and that they would write around her absence this episode by having her character be locked in a box. Are you. Kidding me," she wrote in her book. "So I have to turn down movies while Ariana's off whistle-toning at the Billboard Music Awards? F**k. This."
"If I wasn't such a good sport to begin with, I wouldn't be in this predicament in the first place. I wouldn't be on this sh**ty show saying these sh**ty lines on this sh**ty set with this sh**ty hairstyle," Jennette wrote. "Maybe my life would be entirely different right now. I fantasize about it being different. But it's not different. It's this. This is what it is. Ariana misses work in pursuit of her music career while I act with a box. I'm pissed about it. And I'm pissed at her. Jealous of her."
"So now, every time she misses work, it feels like a personal attack. Every time something exciting happens to her, I feel like she robbed me of having that experience myself."
Other things revealed in her memoir include being offered "hush money" to not talk about her time on Nickelodeon, and more insight to why she turned down the iCarly reboot.
Like Just Jared Jr. on FB