Mon, 02 November 2020 at 2:44 pm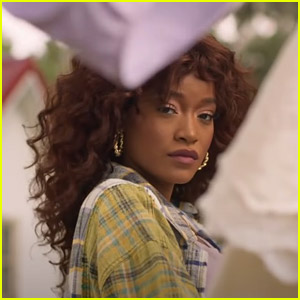 Keke Palmer has a new song and it's encouraging people to get out and vote!
As election day comes closer, the 26-year-old entertainer dropped a new track and video called "Actually Vote."
The new political song was written by Finneas, Dear Evan Hansen songwriting duo Benj Pasek and Justin Paul, and Kaleena Zanders. It was also produced by Finneas.
The music video also features cameos from Bella Thorne, Ilana Glazer, Julia Louis-Dreyfus and Julianne Moore.
"We can win by a landslide, we got power in numbers. Just show up and you're gonna be the GOAT if you actually vote," she sings in the song. "Don't just stand on the sidelines, shoot your shot and beat the buzzer. Get off the couch, off your a–, off the fence and off your phone, and actually vote."
"Does this look like 2016? You ain't stayin' at home. It should be an easy decision, use your intuition, don't need no more with that clown politician runnin' his mouth on my damn television," Keke says in the song.
Keke has been very outspoken about encouraging people to vote this year. She even just recently hosted the Nick News: Kids Pick The President special.

Keke Palmer – 'Actually Vote'
Like Just Jared Jr. on FB