Thu, 27 May 2021 at 4:55 pm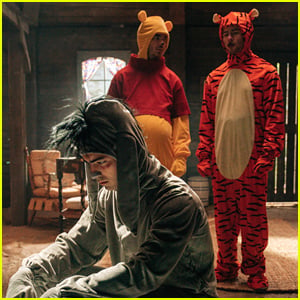 The Jonas Brothers had some fun while on The Late Late Show with James Corden, airing Wednesday night (May 26).
The guys dressed up as Eeyore, Winnie the Pooh and Tigger for a Disney Origin Stories sketch with the late night host.
"With Disney set to release Cruella this weekend, telling the back story of Cruella de Vil before we met her in 101 Dalmatians, the company is getting a big jump on the origin story space and they're teaming up with the Jonas Brothers to make it happen. Get a first look at Nick, Kevin and Joe in the coming origin stories for Lady & the Tramp, Beauty & the Beast and other classics," the video description reads.
Other origin story characters include the Italian chef who gave Lady and the Tramp spaghetti and the lady (played by Kevin) in Beauty and the Beast who needed six eggs.
While they were on the show, the Jonas Brothers chatted up their upcoming Remember This Tour, golfing, and their upcoming Olympic Dreams special. They also shared that Kevin actually contributed into Nick's accident that landed him (no pun intended) in the hospital with a cracked rib!
Speaking of tour, the trio opened up about why they named their tour "Remember This," saying it was kind of in reference to multiple things – "Remembering what the feeling is like to be with a bunch of people, listening to music, and celebrating. So that's what, for us, what it is," Joe said.
Like Just Jared Jr. on FB