Wed, 11 May 2022 at 2:36 pm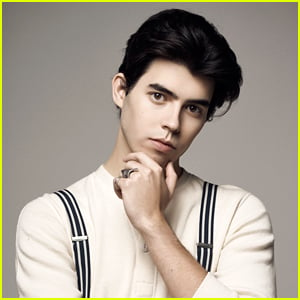 Braeden De La Garza is starring in the new Disney+ immersive, fantasy competition series The Quest!
The actor portrays Prince Emmett in the new show, which sees eight real-life teenagers (Paladins) being dropped into the fantastic, fictional world of Everealm, where they must save a Kingdom by fulfilling an ancient prophecy.
Prince Emmett is described as "wise beyond his years and brainy, with a streak of arrogance, Prince Emmett hungers for knowledge, particularly magical knowledge. He frequents the royal library, devouring books and ancient scrolls.
Emmett is often criticized for being too reserved for his own good (and for that of the kingdom). But those who know him understand that Prince Emmett operates by a different set of values.
He believes that a wise man is a well-educated man. And though Prince Emmett is less impulsive than his sister, his convictions are unwavering — and sometimes wrong — when he arrives at a decision."
VIDEO: Watch The Quest trailer right here!
JJJ caught up with Braeden and learned 10 Fun Facts about him!
Click inside to see what he revealed…
Check out his fun facts below…
1. My first role in anything was as "Little Little John" in "Robin Hood: The Next Generation", my sixth-grade school play.
2. I tuck my shoelaces into my shoes after I tie them because I hate the way floppy shoelaces look.
3. The first song I ever learned to play on guitar was "Bad Moon Rising" by Creedence Clearwater Revival.
4. When I was five years old, I taught myself to play "Amazing Grace" on piano as my grandmother listened to it on a speaker. When she realized it was me playing along, she screamed!
5. The scar underneath my left eye is from a baseball injury I sustained while wearing glasses in the third grade, the line is actually where the glasses cut into my cheek.
6. I may be the biggest Paul McCartney fan of all time.
7. I dressed up as Freddy Krueger for Halloween 6 years straight. It's now become an every other year thing.
8. I'm a Libra, but on the cusp of Scorpio, whatever that means.
9. I have an extreme phobia of feet. Unless I'm required to for a role, you will not see me barefoot, or even wearing a sandal. Ever. I can't stand to see others barefoot either, which makes watching Tarantino movies a challenge. I think the last time I wore anything even RESEMBLING an open toed shoe was in 2nd grade.
10. I was born during the half-time of a Dallas Cowboys game, much to my dad's delight.
All eight episodes of The Quest are NOW streaming on Disney+. Go check it out!
It was also just recently announced that Braeden has joined the season two cast of Cruel Summer in a recurring role, according to Deadline.
He will portray Brent, Luke's (Griffin Gluck) arrogant and entitled older brother. The favorite son in their prominent family, he enjoys exerting his power over the other kids and Luke.
Like Just Jared Jr. on FB